Despite the uncertainty caused by major road construction on Rt 472, the 2016 OPC Apple Festival crowd was possibly the largest to date. Oxford was filled with a vibrant atmosphere as several simultaneous events brought members of the community out to enjoy a beautiful day.
With the addition of food trucks and a little creative maneuvering, we also welcomed a record number of vendors this year. There was a huge variety of products and services, and we look forward to seeing many of them returning again for 2017.
Our entertainment featured Bob Molly, returning to our stage to kick off the day. We also had the OPC Women's Praise Team, amazing soloists from Street Lamp Productions' youth theatre program, Olivia Nelles, Christian artist Bruce Fite, and the Upper Chesapeake Community Band. Rob Robinson wrapped up the day with a great set. Maggie Creshkoff of Backlog Pottery joined us again with pottery demos in the gazebo. Rapunzel and Flynn Rider from Tangled and SuperGrover wandered the park and visited with kids throughout the day.
Once again the PECO Kids Zone was a popular gathering spot, with free activities like the bouncy castle, games with prizes, photo props, and crafts provided by the Oxford Arts Alliance. Rapunzel also read stories to the kids in our Storytime Cabana.
If you are interested in performing at our event, or sponsoring this year's KIDS ZONE, please let us know!
Due to the support of the Oxford community, our vendors, and the many businesses and individuals who sponsored us or donated to our silent auction, we were able to contribute $8000 to the Oxford Rotary Foundation to assist with the construction of an Inclusive Playground. We look forward to the 2017 festival, and choosing another deserving beneficiary!
It's not too late to contribute to this project! Visit downtownoxfordpa.com/ for more information or to donate! Your contribution is tax-deductible!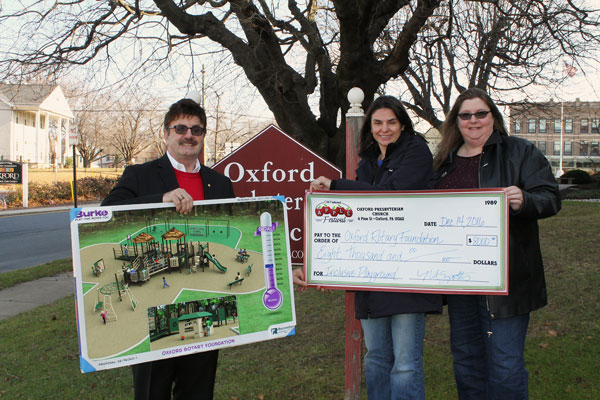 The 2017 event will be held on Saturday, September 30th in Oxford Memorial Park. Vendor applications are available now. We hope you'll mark your calendars and join us! In the meantime, enjoy some memories of our 2016 festival: