It was a beautiful September day when record crowds turned out for the 2015 OPC Apple Festival. We had great entertainment, fabulous vendors, amazing volunteers, fun guests, and yummy food. What could be better?!
Our 2015 Festival had a great entertainment lineup, featuring Chris Monaghan playing two sets. We also had an exciting karate demo from McCormick Karate Academy, more music from Jerry Davis, the OPC Women's Praise Team, Josefina Marcó, Bob Molly, and some other surprise guests. The Oxford Arts Alliance brought in award-winning artist Randall Graham in the "plein air" studio, and Maggie Creshkoff of Backlog Pottery had her wheel spinning in our gazebo.
One of the most popular areas of last year's festival was the PECO Kids Zone, where we offered fun and FREE kids' activities, including a photo booth area with fun and silly props to create some great family photos, a bouncy castle, crafts, a storytelling area and more.
If you are interested in performing at our event, or sponsoring this year's KIDS ZONE, please let us know!
When all was said and done, we were thrilled to be able to donate $6000 to the Oxford Educational Foundation, our primary beneficiary, as well as a surprise $1000 donation to the inaugural run of the John H. Ware IV Memorial Help Hunger Walk, from which 100% of the proceeds were divided between four local organizations who are dedicated to stamping out hunger in our community. We are very grateful for the support from local business owners, without whom we would not have been nearly as successful in our efforts.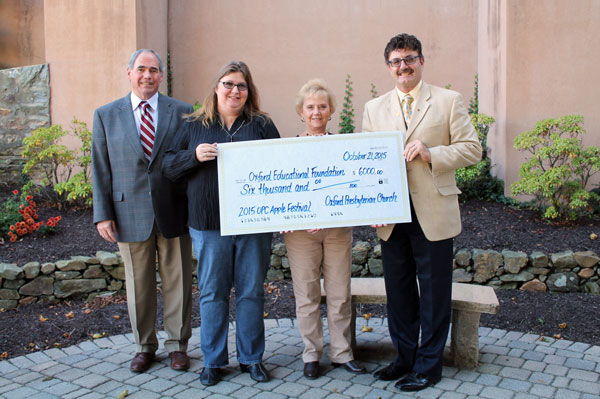 The 2016 event will be held on Saturday, September 24th in Oxford Memorial Park. We hope you'll mark your calendars and join us! Take a look at the pics below to get a great taste of what our event had to offer!